About Us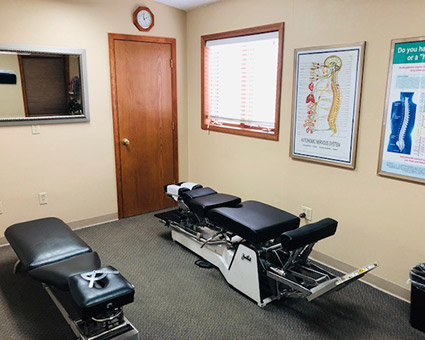 Since 2000, Dr. Kevin Krieg has provided Missoula and Lolo, Frenchtown patients of all ages with specific low-force adjusting techniques. These methods get great results! With his approach, you can experience healing help with as few adjustments as possible.
Achieve Your Healthcare Goals
Maybe you'd like more energy to play with your kids. Or would like to reduce or eliminate medication for a chronic condition. We will help you meet your healthcare goals and educate you on what we can do for you. When your health is restored, you can be more present with your spouse and kids. You also will have more of you to contribute and serve others with.
Natural Help for Chronic Conditions
We like the chronic and difficult cases and we're often the last resort. Patients are delighted that they get remarkable results in such a short period of time. We've had patients who were headaches or migraine sufferers for years. After getting care at our practice, they would see a remarkable turnaround time-sometimes within days or a few short weeks.
We also get lots of great google reviews, and hear comments such as the following:
"You really took the time to explain things well."
"Maybe my body isn't designed to fail me."
More Than Pain Relief
We don't claim to treat or cure, but many patients will tell us that getting adjusted has helped them with other underlying health conditions like high blood pressure. In fact here is a great research article about Upper Cervical Chiropractic and blood pressure published on Web MD https://www.webmd.com/hypertension-high-blood-pressure/news/20070316/chiropractic-cuts-blood-pressure#1. Other patients experience improvement in things like stomach or digestive issues or acid reflux or sinus and allergy issues. So it's not just back and neck types of issues that we address. What you think might be normal might not have to be normal. What you think you have to live with maybe you don't have to.
Providing an Exceptional Experience
At our clinic, we are passionate about under-promising and over-delivering. Here, we are driven by the following acronyms:
ABDOV-Always Be Delivering Outrageous Value
CANI-Constant and Never-ending Improvement
LSIMFT: Loving Service Is My First Technique
One of the ways we set ourselves apart from other chiropractic offices is Dr. Krieg always calls patients the first night of the adjustment to make sure they are doing okay. A lot of people will say, "That's amazing; no one has ever called me before after."
Or, if a patient has a flare-up, we will call them to check in on them. If a patient moves out of state, we'll find a chiropractor in their new city who will work with them. These are just some of the ways we go the extra mile to show we care.
MEET THE DOCTOR »
You're in the Driver's Seat
We're here to serve and work for you. You'll be given options to help empower you so you can live your best life. Whether you are looking for symptomatic relief, help with a more serious underlying condition, or are searching for wellness and a more optimal quality of life, we are ready to help.
We provide the following levels of care. It's always your choice to select the level of care you'd like.
Relief Care: This type of care is for symptomatic relief only. It's designed to help you with your symptoms, and to get you feeling better as soon as possible. However, without moving on to Stabilization and Correction your problems are destined to return. This is because the "Cause" of your symptoms more than likely was not corrected. This is kind of like putting a piece of black tape over your engine light. Sure, you don't see the annoying "check engine" light anymore, but the cause, or a problem with your engine was never addressed.
Stabilization Care: This type of care is designed like it says, to "Stabilize" the cause of your symptoms. During this phase of care you will begin to strengthen your spine and beging to feel more energy throughout your day. Often times, during this phase we will hear patients tell us how they are able to do more with less pain and how the things they used to do in the past which would have normally bothered them don't anymore. This type of care is also designed to begin to improve the health and function of your entire body, once your symptoms have improved.
Corrective Care: Much like an Orthodontist working on someone's teeth, this type of care is designed to bring about the correction of your spine and to begin the process of bringing about the optimal function of your nervous system and body. Of course, the sooner one begins care the better. This is because your results will often depend on how long the cause of your problems have been there for, not just when your symptoms began.
Wellness Care: This type of care is designed to continue to increase your whole-body health and to keep you functioning at the highest levels possible. Much like going to the gym and eating a clean diet, this type of care is designed for those who want the most out of life and who truly believe that their health affects not only themselves, but all those they love!
Get Started Today
Contact our chiropractic care center to book an appointment! Ask about our new patient specials! We accept insurance and Medicare as well as offer affordable payment options for our self-pay patients.
---
About Krieg Chiropractic Center | (406) 541-8888